Recent News
ERA Program
The U.S. Department of Treasury's (Treasury) Emergency Rental Assistance (ERA) program makes funding available to assist households that are unable to pay rent or utilities. The funds were provided directly to states, U.S. territories and local governments. Grantees use the funds to assist eligible households through existing or newly created rental assistance programs. The Treasury advised that participants in HUD-assisted rental programs (including the Housing Choice Voucher (HCV), Public Housing, or Project-based rental Assistance programs) are eligible for the ERA program and may receive assistance for the tenant-owed portion of rent or utilities that is not subsidized. This assistance can include rent arrearages and utilities owed over the utility allowance. To learn more about how to apply for ERA please contact Fayette County Community Action at 724-437-6050, Extension 3213.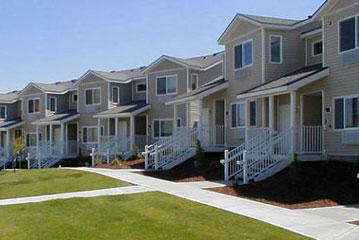 PUBLIC HOUSING EMERGENCY MAINTENANCE
The FCHA has established an emergency maintenance phone number 724-434-2400 for Public Housing residents to report emergency maintenance situations for immediate response after normal business hours, (beginning at 4:30 p.m. on the first day of assignment and ending at 8:00 a.m. on the next business working day) including weekends and holidays.
FEATURED PROPERTY: WHITE SWAN APARTMENTS
History:
White Swan Hotel - The White Swan Hotel was a six story structure located on Main Street in downtown Uniontown. Built in 1925, its classically styled exterior included a shingle roof, eaves with dentil molding, arched windows and a detailed brick exterior. The White Swan Hotel was typical of downtown architecture of its time. Located on the historic national road (U.S Route 40) the White Swan Hotel with its large entrance staircase and ballroom was representative of many grand old hotels built in the early 20th century. The White Swan Hotel and the historic Fayette County Courthouse (1887) are separated by five city blocks and bookend a vibrant downtown business district. Bars, restaurants, banks, beauty shops, retail and office space as well as legal services, highlight an active downtown which is the county seat and includes a newspaper and a public library.
White Swan Apartments - In 1966, the White Swan Hotel was purchased by the Fayette County Housing Authority and was converted into 78 elderly public housing apartments. Renamed the White Swan Apartments, the building has operated essentially the same since its purchase. In 2016, the FCHA proposed to perform a comprehensive exterior and interior rehabilitation to the building including restoration of the ballroom to its original splendor. White Swan Apartments, L.P., as a new housing destination in Downtown Uniontown, will have a significant and lasting impact on the local community, which will also benefit from one of Downtown Uniontown's key landmarks returning to its former glory.
New features include but are not limited to:
* 47 Modern apartments which include energy efficient lighting and water saving fixtures
* 8 Fully ADA compliant Apartment Units
* High ceilings and large windows with panoramic views of downtown Uniontown
* Modernized rental office, and common areas
* Fully Updated Multi-purpose Ballroom
* New Larger Elevator
* Computer Lab
* 2 Laundry Rooms
* Pet Washing Area
Residents are responsible for electric, all other utilities are included (excluding telephone, cable and internet)
Download the White Swan application.link will open a PDF document
White Swan Management Office: 724-912-6633
ADMINISTRATIVE OFFICE:
624 Pittsburgh Road
Uniontown, PA 15401
724-434-2100
info@faycha.org